Coming June 2013
Ages Birth Through 12
Explore to the Core @ Your Library!
Enroll May 20th  to June 3rd  and get your Field Journal!
"Go-pher" a Good Book @ Your Library!
Read 20 books from the Library.
Write your books in your Field Journal &

enter the Grand Prize Drawing!
Hunt for Treasure!
Become a library archeologiest and follow the clues to the treasures and gems with your family.  Find all the clues, complete the assignments and see if you and your family will be going Underground at the Salt Mines in Hutchinson!
Rock Your World @ Your Library w/special activities beginning June 4th!
Lapsit meets at 10:00 AM on Tuesdays only.
Ages 3-4 meet at 10:30-11:00 AM Tuesdays OR Wednesdays.
Ages 5-6 meet at 11:15 AM-12:00 Tuesdays OR Wednesdays.
Ages 7-9 meet at 1:30-2:15 PM on Tuesdays OR Wednesdays.
Ages 10-12 meet at 2:30-3:15 PM on Tuesdays.
 Week 1 – June 4th & 5th:  Dig Into The Past
Week 2 – June 11th & 12th:  Under the Earth
Week 3 – June 18th & 19th:  Burrowers
Week 4 – Go Underground
June 25th:  Journey to the Center of the Earth, Movie Day
June 26th:  Derick the Mad Scientist @ 7:00 PM in the Library
The Camp Counselors (Librarians) help you Unearth Good Books!
We've Got You Covered, so ask us anything!!  Need more info??  Call Millie or Stephanie, 872-5341.
 
Teens
Go Underground this June and learn about the World Beneath Your Feet!
Wednesdays @ 2:30 in June 2013!
Sign Up @ the Library begins on May 20th!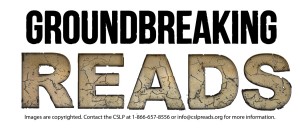 Adult Reading Program
Inquire at the Adult Circulation Desk for rules.
Prizes will be awarded for each level reached.
Chance to win a book of your choice for finishing the Program!