Ages Birth Through 12
Enroll beginning May 23, 2016
(Online or in the Library)
Be a Reading Champion!
Read 20 books from the Library.
Receive Free Coupons & Prizes from Your Library!
Read to the Finish Line
 @ Your Library w/special activities beginning
June 3rd!
Kick off Night, June 3, 2016
Walk the StoryWalk with US
along the Happy Trails Walking Trail @ Palmer Park
 June 3rd @6:00 – 8:30 pm.
Participants receive a medal!
Refreshments too!
June 7 through 22 In-Library Programs:
Lapsit meets at 10:00 AM on Tuesdays, June 14, & 21.   Special Program Session, June 7th or 8th at 10:30 AM
Ages 3-4 meet at 10:30-11:00 AM Tuesdays OR Wednesdays.
Ages 5-6 meet at 11:15 AM-12:00 Tuesdays OR Wednesdays.
Ages 7-9 meet at 1:30-2:15 PM on Tuesdays OR Wednesdays.
Ages 10-12 meet at 2:30-3:15 PM on Tuesdays OR Wednesdays.
Special Programs:
Find the Frog!

Can you figure out where our library frog is hiding in Scott City?  Hint:  His picture will be posted each week at the library.  Figure out where he is and go find him!  When you do, take his picture or note where he was hiding and you will get  a prize for your whole family!
Family Fun nights!

Walk the StoryWalk on Friday, June 3rd from 6 to 8:30 pm at the Happy Trails Walking Trail, Palmer Park. Medals and Refreshments for all who participate!
Family Miniature Golf Night at the Library, June 28th from 6 to 8.  Participants may sign up to win 4 Kansas City Royals Tickets!
 Librarians are Information All-Stars!
Need more info??  Call Millie or Stephanie, 872-5341.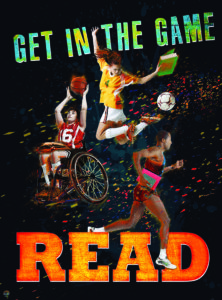 Teens
Be a Star Reader
Wednesdays, 3:30 to 4:15
Sign Up Online OR
@ the Library beginning May 23rd!
 Adult Reading Program
 
Inquire at the Adult Circulation Desk for rules.
Prizes will be awarded for each level reached.
Chance to win a book of your choice for finishing the Program!