Coming June 2015

Ages Birth Through 12
Read to the Rhythm!
Enroll beginning May 21, 2015  (Online or in the Library)
Shake, Rattle, & Read
Read 20 books from the Library.
Receive Free Coupons & Prizes from Your Library!
Hey Mr. Tambourine Man!
Get Jazzed up about Reading!  Fun for the whole family!
Strum to the Story @ Your Library w/special activities beginning June 3rd!
Kick off Night, June 3, 2015
@ 7:00 PM in the library
with Kevin Horner
Illusionist & Ventriloquist 
June 9 through 24
Lapsit meets at 10:00 AM on Tuesdays only.
Ages 3-4 meet at 10:30-11:00 AM Tuesdays OR Wednesdays.
Ages 5-6 meet at 11:15 AM-12:00 Tuesdays OR Wednesdays.
Ages 7-9 meet at 1:30-2:15 PM on Tuesdays OR Wednesdays.
Ages 10-12 meet at 2:30-3:15 PM on Tuesdays OR Wednesdays.
The Book Cover Band (Librarians) can give you the book beat!
Chicka, Chicka, Boom, Boom!!  Need more info??  Call Millie or Stephanie, 872-5341.
 

Teens
Rhythm in the Stacks 2015
Wednesdays, 3:30 to 4:15
Sign Up Online OR @ the Library beginning May 21st!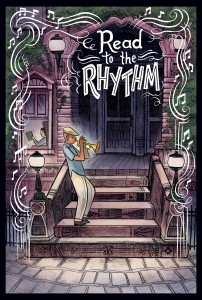 Adult Reading Program
Inquire at the Adult Circulation Desk for rules.
Prizes will be awarded for each level reached.
Chance to win a book of your choice for finishing the Program!