Did you know that the State Library has audiobooks, ebooks, and digital storybooks that are available to all Kansas residents? Most will need a Kansas Library eCard, which you may get at any public, school, or academic library in Kansas.
Visit http://kslib.info/digitalbooks to learn more. Since there is more than one option and some services may not work for all devices, we would recommend clicking into the "Instructions & Devices" section off the main page. Choose your device, and you'll see which services work for it along with an instructions link.
How eBook Lending Works
EBooks work like normal library books. We have a "copy" of each book. When that copy is checked out, the status for the book will read "place a hold" indicating that you need to wait for the previous person to finish reading it.
If a copy is available, you will be able to add it to your cart, check out and download the book.  EBooks automatically expire after the duration of time selected.  However, you may check them back in early if you wish.
Having a technical problem with one of the new services? 
Contact Lianne Flax at the Online Services desk for help.  
audiobooks@library.ks.gov
Here are a few of the many options the State Library of Kansas has to offer: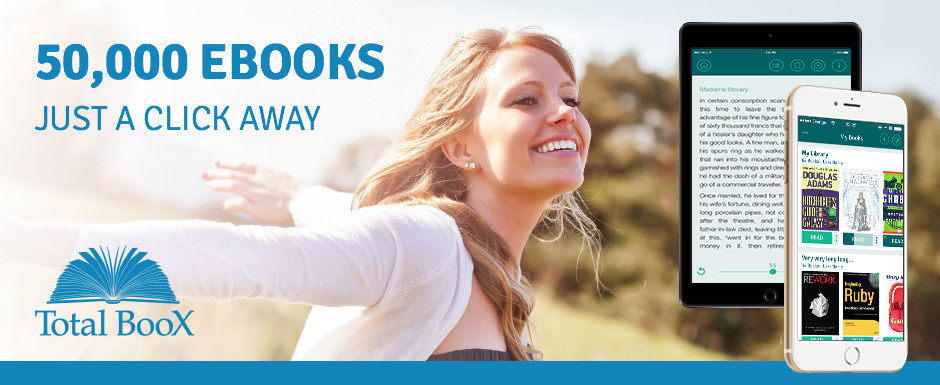 NEW!
Download as many ebooks as you want from our catalog of 50,000 ebooks, and start reading immediately, with no holds, no expirations, no limitations, no fines. Reading is free, courtesy of your library.
Get Started with TotalBoox:  Click Here

What is Cloud Library? An ebooks service containing mostly fiction from larger publishers and larger-name authors.  All functions from searching, checkout, to reading can be done inside the software/app. You need a Kansas Library eCard to login to the app or software.
Click Here:  http://kslib.info/131/Cloud-Library

Register for OneClickDigital Registration is only required once! You do not have to go through the Kansas Library Card (or through your local library's website) to access OneClickDigital again. You simply log in with the username & password you are about to create in the future. Full instructions for registration via the Kansas Library Card are below.
1. Go to the http://kslib.info/130/OneClickdigital
2. The registration link is the second item on the screen! Click this.
3. The "create new account" page will open at OneClickDigital. You do not need to provide your library card number to the audiobooks system again.
4. Account preferences: all of these can be changed later under "My account," so don't worry if you might want to use a different type of device or change your mind about Media Manager later.
5. Personal Information
a. Username–pretty flexible. You can use your Kansas Library Card number if you wish, or make up your own username entirely. This is the only field that you cannot change later. Be sure to keep track of this! Librarians are unable to look up your username.
b. Password—must contain some letters, so you cannot use your birthdate in MMDDYYYY format as you would with the Kansas Library Card. You could, however, have a password like: april41972. Passwords can be changed at any time.
c. Email address—you will be sent notification of holds and OneClickDigital has the ability to email a new password to you if you forget it.
6. Click the "Create an Account" button to complete your registration. Remember, if you selected "Media Manager" as your download method, the software installation will begin now. The OneClickDigital Videos link on the Kansas Digital eLending page include one on the Media Manager.