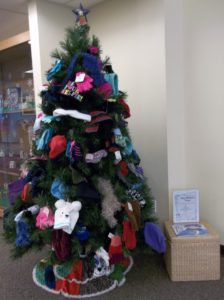 The Scott County Library is taking donations for the Mitten Tree in the months of November and December.  Mittens can be brought to the library and hung on a Christmas tree.
Rachel Fisher is once again organizing the annual project as part of her 4H Leadership project.  The project is based on the book, The Mitten Tree by Candace Christiansen.
"One snowy day an elderly woman, Sarah, watches children gathering at the bus stop. While they never seem to notice her, she notices them, especially one little boy who has no mittens. That night, Sarah knits the boy a pair of cozy mittens and places them on the blue spruce tree for him to discover. It soon becomes a game, with the children looking for new mittens on the mysterious tree every morning, and Sarah joyfully knitting new ones each night. With its touching message and delightful illustrations, adults and children will enjoy this intergenerational tale for years to come."
This is the 8th year for the Mitten Tree Project at the Scott County Library.  The mittens were donated to the Health Department, the Western KS Child Advocacy Center, and the Thrift Store for youth in Scott County who are in need.  We excited again this year to see the tree fill up!