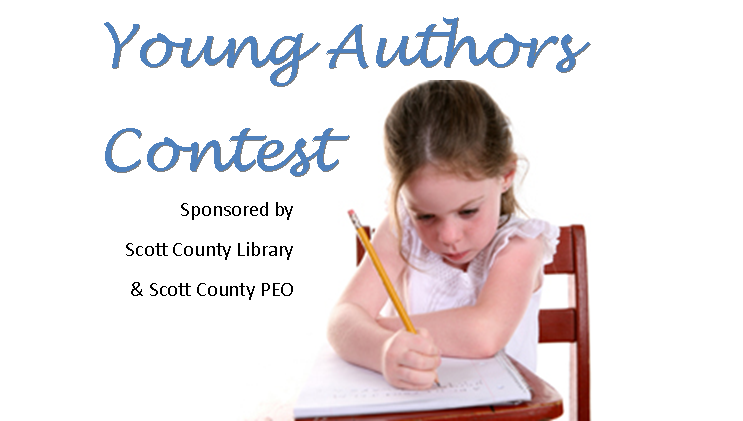 It is time again for the Young Author Contest.  Entries will be accepted through April 29, 2014 at 6:00 PM.   Any student in any school in Scott County is eligible to enter the contest. The contest is open to 1st through 12th grade. . Winners will be announced on May 12th with a reception on August 24, 2014.
Participants in grades 7-12 can enter three divisions; Fiction Story, Children's Picture Book and Graphic Novel. Students in grades 7-12 may participate in one or all of these categories. A children's picture book is formatted in 32 pages including the title page with illustrations. The Graphic Novel category is similar to a comic book story.
New for 2014 is a Poetry Contest open to grades 1-12! One winner will be selected in this division. Only ONE ENTRY per student is allowed. The Winning Poem will be awarded a special prize TBA. ALL poems will be bound into the 2014 Scott County Library Poetry Anthology and will be available for check out to the general public. This anthology will not be available for purchase at this time. All entries require an Entry Form which can be downloaded from our Young Authors Page.
2014 Poetry Contest Theme is "Farm".
All poems should be centered on this theme but are allowed artistic license as long as the theme is incorporated.
 Guidelines and information are available to view and print from the Young Authors Page on this website, or you may stop by the library to pick them up. You may also call the Library at 872-5341 if you have questions. Thanks for your participation!
Scott County Library & Scott County PEO
2014 Young Authors' Contest Deadline Approaching!