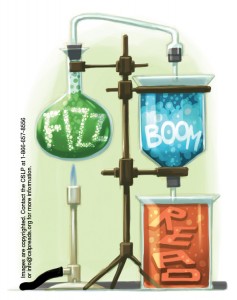 It's time to sign up for Summer Reading Science Camp 2014 starting Monday, May 19th!
Ages birth through Adult are invited to sign up for our annual programming that begins with a Kick Off Night on June 3, 2014 @ 7:00 pm.  Mad Science of Oklahoma will present a Fizz Boom Pop science night at the Lab-rary for all ages!
Programs in the Lab-rary begin on June 10th and will include lots of hands on experiments to promote reading and exploration.  A Family Exploration Activity is also part of the programming during June in which families can win an invitation to a Super Science Night!  Coupons and prizes sponsored by Dairy Queen, Cakery Bakery, Braun's Butcher Block, Farm Bureau, Heartland Foods, and the Scott County Fair Board are awarded weekly!
Enroll at the Lab-rary (that's fun term for our library this summer) or Online!
Summer Reading @ Scott County LAB-rary!