Have you checked out these cool book sites for kids?  These books work directly in your browser, so there is no software to download.  Books will work on any device with an internet browser (including color ereaders).
How do I access the Kids' Storybooks?
Most people will be able to access these books without login from the Kids eBooks page at the State Library of Kansas:  https://kslib.info.  If your internet service address does not register as Kansas, you will need to login with a Kansas Library eCard which you can get free at your library.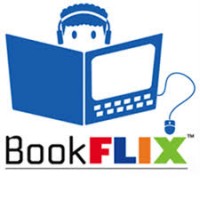 What does it have?
Animated picture story books matched with a non-fiction book.  Each book pair may also have 2-3 games/puzzles.
Using a Book:
Select a subject to see the pairs of books. When you select a pair, you then can play the story or read the non-fiction book.
Each book's puzzles/games can be accessed after selecting a book pair.
Resources section in the upper right side is for parents and librarians.

What does it have? 
Mostly animated, picture story books with audio.  Some chapter books with optional audio are for slightly older kids (no animation or images). Some National Geographic videos, non-fiction books, and games will match topics with books.
Mobile devices – always confirm you are on mobile!
When a mobile device accesses TB, it should recognize that you are on a mobile device. If you are not on mobile version, look for the "Choose" option in that looks like a language selector.  Pick "mobile" from this and tap "go."
Options for finding & saving books on TB: 
Searching: the simple search box in the upper right works well, especially for keywords.
Playlists (does not work for mobile yet): if your child wants to watch several books, click the "add to playlist" button while browsing.  Click the Playlist link in the gray bar to get to your list.  Please note that these will not be saved if you exit the screen.   TB has pre-made some playlists (holidays, bugs, etc).  Use the Playlists button on the main page to see these.
My Cloud account: if your child likes to re-watch the same things over and over, create a My Cloud account.  This allows you to use the "add to favorites" button, and you will not have to go searching for the books they like again.

Britannica E-STAX (nonfiction ebooks for kids) also has a banner on the Kids eBooks page.
Stop in at Scott County Library today to get more information or click the icons on the right sidebar to give Kids Digital Storybooks a try!
Digital Storybooks for Kids!