Introducing Playaway Launchpad – the kids only learning tablet that both kids and adults will love.
Every Playaway Launch pad is pre-loaded with high-quality, ad-free learning apps and games, providing interactive learning and play.
Apps are grouped onto Launchpads by subject area, theme, grade level, and age.  Featuring popular characters and brands, apps content spans subject areas from math and science to critical thinking and creativity, and theme from animals to princesses, fantasy, nature, and more.
Lauchpads are 100% secure, ensuring that no one will be exposed to unintended content.
Stop in and try one out today!  Available at the Children's Circulation Desk.
Currently Available:  You Auto Know! Ages 3-5, Peek-A-Zoo! Ages 3-5, Storytime Adventures! Ages 3-5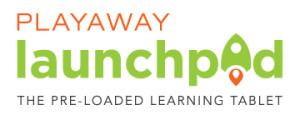 The Kids Only Learning Tablet is Now @ Your Library